Participant: DERVISH
Song: They Can't Stop The Spring
Writer: John WATERS, Tommy MORAN
Composer: John WATERS, Tommy MORAN
Video and mp3:
http://www.youtube.com/watch?v=6njXvNKd1BM
Lyrics:
They Can't Stop The Spring
The curtain has been raised
The wall no longer stands
And from Lisadell to Latvia
We're singing as one clan
The curtain has been raised
And Europe's all one stage
And the archipelagic icicles
Have melted like the cage
We don't need no party
Just a party band
A continental choir
Singing hand in hand
3 x Chorus:
They might scare the blackbird
But they cannot stop him sing
They may steal the honey
But they'll never steal the sting
They may crush the flowers
Trample every living thing
But they can't stop the spring
About:
Dervish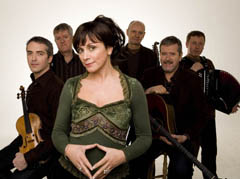 Dervish are one of the most successful and respected ambassadors of traditional Irish music and have performed to audiences around the globe. Critically lauded, they have shared centre-stage with some of the world's most respected artists, including James Brown, The Buena Vista Social Club, Oasis, Sting, REM and Beck.
Dervish are also noted for their interpretation of a wide range of modern songs. Possessing one of the tightest and most inventive rhythm sections on the circuit today, the Sligo-based sextet are famous for their high energy performance style, at times wild and swirling, at times deep and spiritual.
Formed in 1989, in their hometown of Sligo in the West of Ireland, the band are made up of Cathy Jordan (vocals, bodhrán, bones), Tom Morrow (fiddle, viola), Shane Mitchell (accordion), Liam Kelly (flute, low whistle), Michael Holmes (bouzouki) and Brian Mc Donagh (mandola, mandolin). Over the past eighteen years they have released numerous albums which have been huge hits in Ireland and in World/Music charts internationally.
Dervish are delighted to be performing "They Can't Stop The Spring" in Helsinki. The song,written by renowned Irish journalist, John Waters and his childhood friend Tommy Moran, was inspired by comments made by the Czech leader Alexander Dubeck in 1968 and according to the songwriters "it's kind of a Celtic celebration of the Eastern European revolutions".
Dervish are excited to be returning to Helsinki where they have enjoyed the craic with Finnish audiences on numerous occasions in the past.

Song writers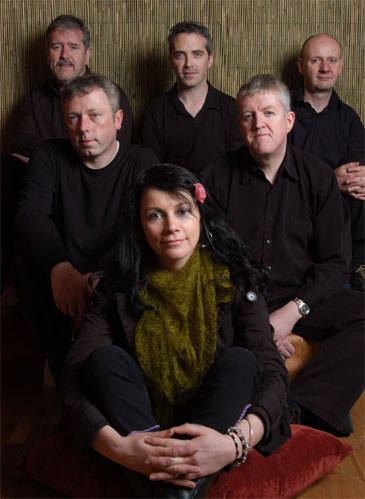 Tommy Moran was born in Co Roscommon. From an early age he played a number of instruments, including guitar, piano, accordian and tin whistle. He played for several years with a number of groups and showbands. He subsequently worked as an electronic engineer but continued to play and write music.
In 2000 and 2001 he won the Glinsk Song Contest with songs co-written with his father-in-law, J.J Flannelly. He was shortlisted for Eurovision on one previous occasion.
John Waters was born in Co Roscommon. As a teenager he began writing songs with his neighbour Tommy Moran. He subsequently became a journalist, author and playwright. His first book, Jiving at the Crossroads (1991), about the cultural underbelly of Irish politics, was a bestseller. His other publications include Race of Angels (1994) a study of the roots of U2's music in Irish history and culture. His most recent book is The Politburo Has Decided That You Are Unwell (2004). His award-winning plays include Long Black Coat (1994) and Easter Dues (1997).He currently writes a weekly column for The Irish Times.
John Waters on "They Can't Stop the Spring":
"When we heard that Dervish were going to represent Ireland in Eurovision we decided to write a song combining an Irish flavour and a European theme, one that addressed the changing nature of both Ireland and Europe."They Can't Stop the Spring" is a kind of Celtic celebration of the eastern European revolutions and their eventual outcome, including the presence in Ireland of thousands of new Irish from Czech, Slovakian and Latvia.