Participant: TEAPACKS
Song: Push The Button
Writer: Kobi OZ
Composer: Kobi OZ
Video and mp3:
http://www.youtube.com/watch?v=ei4zlCbquoY
Lyrics:
Push The Button
The world is full of terror
If someone makes an error
He's gonna blow us up to bloody biddy kingdom come
There are some crazy rulers they hide and try to fool us
With demonic, technologic willingness to harm
2 x Chorus:
They're gonna push the button
Push the button the bu push the bu push the button
Il y plein de souffrance
Dans les rues il y a trop de violence
Et on a beacoup de chanche d'etre
vivant meme pas Blesses
Advancement tactique de regime fanatique
Situation tragique qui met les larmes aux yeux
And I don't want to die
I want to see the flowers bloom
Don't want to go capoot ka boom
And I don't want to cry
I wanna have a lot of fun
Just sitting in the sun
But nevertheless
2 x Chorus
Mesarim mitpotztzim alay
Tilim mitofefim vegam noflim alay
Shotrim veganavim mitrotztzim alay
Vehem koftzim alay mitkartztzim alay
Elely elely thane li elohai hi
Haciyuth haze aroch miday
Keshani bekoshy chai vekolam
mechavnim elay ze mukdam lashir ulay
Senatati lach chayayi
Why why – hamishtara
Whyhoo whyhoo – tzevet hatzala
Einei ze bakdam shir llo salam
Adom ze lo rak tzevah ze yoter kemo dam
Shov otzer balev et haneshama
Shelo tifrach hacshav haneshama
Henei milchama henei haneshama
Boom boom ze ma sekore hachshav
Bein raketa lamacheta bein tzofeh lekatav
Bein mechtaf lenechtaf bein gashom lesharav
Haslama bamadregot ola vetofeseth kav
Kloom kloom ze ma sekolam osim
Kitzonim maktzinim vektzinim martzinim
Hatemimim mitmatnim mamtinim lenetonim
Veonim : sekolam chasrei onim
Olam kulu demonim seanachnu stam pionim
Vechampionim im gettonim machlitim ma seyiheah
Nihol behatzaltaim ' oniyah meleah bemaim
Vekolam sotim lechaim vetovim ze letad ze
Olay ze chad miday tzarich lashir
shirei dkalim shirei midbar lelo dgalim
Ani od chai chau chai veim yamshich lehiyoth mafchid
Rak az ani agid
2 x Chorus
About:
Teapacks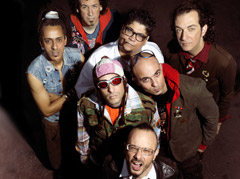 19 years, thousands of shows, hundreds of thousands of albums sold, and countless fans: Teapacks selected to represent the state of Israel at the Eurovision Song Contest
Teapacks has been selected to represent Israel in the Eurovision Song Contest, to be held in Finland's capital city of Helsinki in May 2007. Teapacks was formed in 1988, after Gal Pereman and Kobi Oz met at a Kibbutz in southern Israel. The two began playing Kobi's original songs, and were later joined by musicians from local Kibbutzim and the city of Sderot.
The band consists of 7 members:
Kobi Oz – lyricist, composer, music producer, and lead singer; Gal Peremen – bass, Rami Yosifov – guitar and mandolin; Meir Amar (a.k.a BIG M) – computer programming and sound effects; Motti Yoseff on drums; Dani Aberjel on guitar; and Noam Yankelevich on keyboards and accordion.
Up until now, the band has released seven albums, a movie soundtrack, one EP, and a greatest hits collection which collectively have sold over 300,000 copies. Two Teapacks albums received the Israeli Platinum award for sales above 40,000 units, and four received Gold status for sales above 20,000 units – considered a great achievement in the relatively tiny State of Israel. Over the years their singles have received regular radio play, often climbing to the top of the Israeli charts. Teapacks have has been named "Band of the Year" numerous times by various Israeli media outlets.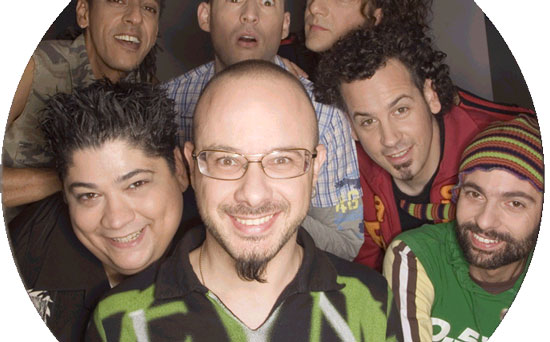 Teapacks has collaborated in the studio and onstage with many other artists, including: Sarit Hadad, Shiri Maimon (both of whom represented Israel at Eurovision in previous years), The Israeli Andalusian Band, the internationally renowned Israeli rap group Hadag Nahash, and more…
To this day, the band has performed thousands of shows – in concert halls, festivals, and a host of high-profile events in Israel and around the world.
In the 90's, Teapacks successfully increased awareness of Middle Eastern Levantine music and legitimized it, allowing it to be considered worthy of heavy rotation on Israeli radio.
More about the Israeli group
Hebrew folk music. Rock mixed with ethnic elements, rap rhymes and pop choruses. Arabic and East European music, blended with a live disco ambiance. Tel Aviv sophistication and a North African temperament, infused with Israeli humor and Jewish chutzpa.
Teapacks is known for its contribution to deepening social awareness in Israel. Their lyrics bring daily situations from the Israeli street into public consciousness, inspiring considerable identification among their audiences. Teapacks is guaranteed to move your butt, tickle your feet, mess with your mind, and touch your heart.
Complete Album Credits
1992: Shvil Klipot Hagarinim ("The Trail of Sunflower Seed Husks")
1993: Ha'acharon Ba'asiron Hatachton- ("The Last in the Lower Class")
1995: Hachayim Shelcha B'laffa ("Your Life in a Laffa" )
1996: Original Soundtrack "Klavim Lo Novchim B'yarok" ("Dogs are Colorblind")
1997: Neshika Ladod ("Kiss Your Uncle")
1998: Ha'etzev Avar Lagur Kan EP ("Sadness Moved In Here")
1999: Disco Menayek
2001: Yoshvim B'veit Kafeh ("Sitting in a Coffee Shop")
2003: Kol Halehitim ("All the Hits")
2006: Radio/Musika/Ivrit ("Radio/Music/Hebrew")