Participant: DJ BoBo
Song: Vampires Are Alive
Writer: DJ BoBo
Composer: DJ BoBo
Video and mp3: http://www.youtube.com/watch?v=9-dDxp8Cez0
Lyrics:
Vampires Are Alive
Vampires are alive
The legends have to survive
We'll never come undone
And we will be forever young
Vampires get alive
I am a vampire, I'm a slave
I sleep through the daylight, hence my grave
In the darkness, in the shadows – here I am
(Here I am)
I want you to be forever mine
Together until the end of time
Like a nightmare never ending
Let me change your world
Chorus:
Vampires are alive
The legends have to survive
We'll never come undone
And we will be forever young
Vampires are alive
(And we will be forever young)
Vampires, vampires are alive
(And we will be forever young)
Tonight is the night, live a thousand years
Don't be scared, don't drown in tears
Free your spirit after midnight, sell your soul
(Let it go)
From heaven to hell, enjoy the ride
You're here to surrender with your life
Precious victims, my desire, live eternally
Chorus
(Vampires) are alive
Vampires are alive
(Vampires)
About:
DJ BoBo (René Baumann)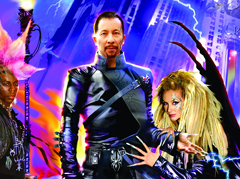 This year, one of Switzerland's most successful artists will be representing the nation at the Eurovision Song Contest: DJ BoBo. He will be appearing in Helsinki to perform "Vampires Are Alive". The song continues a long-standing DJ BoBo tradition – his concept albums and tours always have a particular theme. Work on planning the "Vampires Alive" tour, which starts in April 2008, began back in the summer of 2006. DJ BoBo's last major international tour was "Pirates of Dance", which played a long list of large venues in 2005/2006.
"Vampires Are Alive" gives a foretaste of the forthcoming "Vampires Alive" tour, which will bring a party of superlatives to cities around Europe.
DJ BoBo made his international breakthrough in 1993 with "Somebody Dance With Me". Taken from his first album, the song "Everybody" was the summer hit of 1994.
The second album, "There Is A Party", followed at the end of 1994 and spawned the smash hits "Let The Dream Come True", "Love Is All Around" and "Freedom", all of which went gold.
In early May 1995, DJ BoBo went to Monaco to receive the first World Music Award as "World's Best Selling Swiss Artist of the Year". Once more, he celebrated a huge summer hit with "There Is A Party".
On 14 January 1996, DJ BoBo kicked off his "Love is the Price" tour with an appearance on the popular Saturday evening show "Wetten, dass…?" to present his first ever ballad, also titled "Love is the Price".
As Michael Jackson's special guest on his "History" tour, DJ BoBo & Crew showed what they were made of in concerts in Prague, Budapest, Bucharest, Moscow and Warsaw. For DJ BoBo it was a childhood dream come true.
The release of the "World In Motion" Album at the end of 1996 broke all previous records, even going platinum in Germany after it had sold 500,000 copies. In Switzerland, the album caused a sensation by going straight in at Number One in the charts and eventually went double-platinum after sales topped 100,000.
DJ BoBo then went on a 20-day promotional tour to Asia and was the first western artist to perform in Guangzhou, China. The subsequent tour of South America took him to Brazil, where he appeared on the nation's most popular TV show before some 25 million viewers. At this time, the "World In Motion" show was staged in response to enormous popular demand.
The "Magic" album was released shortly after the new song "Where Is Your Love" had appeared in March 1998. The subsequent "Magic" tour – a blend of concert and magic show – was performed at 35 concert venues throughout Europe and at five open air events. It was seen by a quarter of a million people in total.
In October 1999, DJ BoBo released his sixth album, "Level 6", which immediately entered the Swiss charts at Number One and went platinum in Switzerland and gold in Germany. The theme for the "Mystasia" tour was given by stories presented in five tableaux, featuring a rainbow spanning the "Mystasia" world, two extraordinary earthlings, ten huge monsters and a flying DJ BoBo.
November 2000 saw the publication of the book "Gestatten, René Baumann", in which DJ BoBo for the first time put forward his own perspective on his life and career, his successes and setbacks. On his seventh album, "Planet Colors" (2001), each song represented a different colour and reflected the full spectrum of human emotion. The associated European tour was a rich feast for all the senses.
René Baumann married Nancy Rentzsch on 9 August 2001, and on 8 October 2002 the couple became proud parents of Jamiro. DJ BoBo wrote the song "Do You Remember" for his wife and son.
In 2003, "Chihuahua" was a Number One hit for DJ BoBo around the world. In France and Germany, the single became the theme song for that summer, spending ten weeks at the top of the singles charts in both countries.
After releasing his first live CD, "Live in Concert", DJ BoBo returned home to Switzerland and used the break to completely refocus his various activities as a musician, show developer and head of an independent record label. This period also gave birth to the concept album "Pirates of Dance", with which DJ BoBo toured major venues in 2005/2006.
In 2006 there followed a world premiere for a new dream team in international pop music. DJ BoBo and Sandra – known for her musical successes during the 1980s – together recorded "Secrets Of Love". In the same year DJ BoBo also issued his first "Greatest Hits" album. The highlight of the year, however, was the birth of daughter Kayley, on 29 September 2006.
In October 2006, DJ BoBo joined the United Nation's World Food Program (WFP) as an Ambassador Against Hunger.

Axel Breitung
Axel Breitung has been a producer and songwriter for around 20 years. To date, he has earned 66 gold or platinum records and worked with 55 artists from around the world (including Ace of Base, Gibson Brothers, Kim Wilde, N'Sync, Rednex and Sarah Brightman). For the last 13 years he has teamed up successfully with DJ BoBo and together they have now written and produced Switzerland's entry for this year's Eurovision Song Contest.