Participant: SEREBRO
Song:Â  Song #1
Writer: Daniil BABITCHEV
Composer: Maxim FADEEV
Video and mp3:

Lyrics:
Song #1
It's a dirty money track
Yeah
Girls kick the flow!
Listen to me
All my girls get ready
We'll make it easy
When I catch you picking me
You better get a chill
Boy you wanna take on me
Cuz I'm your killing pill
Can't you see the way I move
My dress my flashy skin
Listen up you know I got
The place you've never been
Slow down
Boy you don't wanna let me down
You better stop you know what!
Oh! Don't call me funny bunny
I'll blow your money money
I'll get you to my bad ass spinning for you
Oh! I'll make it easy honey
I'll take your money yummy
I've got my bitches standing up next to me
So come and check it
So come and check it
So come and check it
My bad ass spinning for you (2x)
Watch out!
Keep on taking over you
It's kinda getting free
Baby boy you know I still
Got sexy freak in me
Gotta tease you nasty guy
So take it don't be shy
Put your cherry on my cake
And taste my cherry pie
Maybe I'll take you with me tonight
Maybe you'll show me another way
And find a reason for me to stay
But something I must tell you!
Feel my vibration
Get it!
About:
Serebro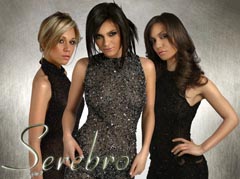 Elena Temnikova – born in Kurgan. In 2002 took part in the national TV music project "Star Academy"
Olya Serebkina – born in Moscow. From the age of seven went into ballroom dances. At seventeen became candidate master. Participated in international competitions. Graduated from the school of dramatic arts, where she specialized in "singing".
Marina Lizorkina – born in Moscow. From the age of twelve sang in Struve chorus. At the age of 16 entered the Contemporary Art University. Loves painting in her own unique style. Hobby: cars.
Maxim Fadeev
Maxim Fadeev was born in Kurgan on May 6, 1968. At the age of five he entered the music school attached to the Kurgan Academy of Music. When Max was fifteen he entered two departments of the Academy of Music at once – chorus conducting and piano. At seventeen he started writing songs.
Shortly after he was invited to join the Convoy band of the Youth Recreation Center as the backing vocal. The band was extremely popular in Kurgan, but the Komsomol authorities were not that happy with the music played by the band.
While participating in the All-Soviet Union young talent music festival he was noticed by a famous at that time Soviet singer who invited Maxim to come to Moscow to work together.
In 1993 Fadeev received a phone call from Fyodor Bondarchuk and proposed to have live audition of a girl who dreamt of a career in showbiz. Her artistic name was Linda. Fadeev's cooperation with Linda continued from 1993 till 1999. The very first project produced by Fadeev became extremely popular all over the country, and the experts admired the quality of music product never before seen in the domestic showbiz
After that Max went to Germany where he began composing music for films. Five soundtracks and project Oil Plant were the products of his labor in Germany.
In the end of 2002 General Director of Channel One Russia invited Maxim Fadeev to take part in Star Academy-2 as producer. Shortly before that Maxim started his another overwhelmingly successful project Glukoza. In 2004 once again Maxim became one of the producers of Star Academy-5.
At present Maxim Fadeev is producing such successful projects like Yuliya Savicheva, Irakli, Narcis, Lena Kukarskaya, Glukoza. Besides that Fadeev is one of the major hit makers of the Russian popular music and works as composer with different singers. He is also works a lot composing music for films.
But his main activity of the last time is building up of a new pop-project – the girls' trio Serebro.
DISCOGRAPHY
Max Fadeev
Dance on Broken Glass (1991)
Bliss (1997)
Scissors (1997)
The Red One. (TRIUMPH soundtrack) (2001)
Linda
Tibet Lamas Songs (1995)
Tibet Lamas Dances (1995)
Crow (1996)
White on White (1999)
Placenta (1999)
Total
"Total: 1" (2001)
"Total: 1+" (2002)
Monokini
ReachingtheSun (2002)
Glukoza
GlukozaNostra
Moscow
Yuliya Savicheva
High Up
Magnet
Narcis
Chocolate Bunny
Irakli
London – Paris
Star Academy
Compilation Album

Daniil Babichev
Born – July 5, 1984 in Nyagan. Graduated from music school where he took piano lessons. From the very early age he fell in love with music. In the school years with a group of like-minded friends created a band.
In 1997 took part in the making of a musical program. Participated in various young talent shows and won different prizes.
In 2005 came to Moscow to participate in the national TV music talent show "The Secret of Success", where he successfully passed the casting stage with a band called "Nota Fraid". After the project he came into line with Maxim Fadeev.
Hobbies: Music.