Participant: Edsilia ROMBLEY
Song: On Top Of The World
Writer: Tjeerd OOSTERHUIS, Maarten TEN HOVE, Martin GIJZEMIJTER
Composer: Tjeerd OOSTERHUIS
Video and mp3:
http://www.youtube.com/watch?v=xJK54QKz-Ow
Lyrics:
On Top Of The World
I've been trying to let you go,
And I thought I was strong,
But your love's got a hold on me and,
Now I can't move on.
Are we making the same mistake?
Have we learned from the past?
Could this be our second chance, the one that's gonna last?
Chorus:
On top of the world, I'm reaching out,
On top of the world, I sing out loud.
Just promise to never break my heart,
I'll give you forever.
On top of the world, just you and I,
So promise to never say goodbye.
Now I know, we are forever more
People may come and go,
But I need you to stay.
Deep within I have always known,
That we would find a way.
Chorus
I know we've tried it all before,
It will be better now I'm sure.
Been so blind, you make me see
How strong I am when you're with me.
Say your love is here to stay,
Need you more everyday.
About:
Edsilia Rombley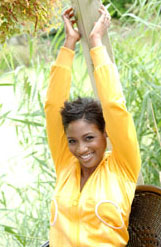 Music was just part of everyday life in the Rombley household. As the youngest of three, Edsilia tried to musically keep up with her sister, who was singing in an Antillean band at the time, and her brother, who rapped from time to time, from a very young age. Edsilia faced her first challenges when she was just 13 years old. She took part in a talent contest with an Oleta Adams song. Everyone was simply amazed by her singing abilities. She joined the R&B/soul girl group 'Dignity' as a singer when she was fifteen years old.
She realised her real breakthrough at a very young age when she won the Dutch Soundmix Show in 1996 with another Oleta Adams song. She definitively became a household name after she also won the European finals of the Soundmix Show a year later. Edsilia represented the Netherlands at the 1998 Eurovision Song Contest in Birmingham in the United Kingdom. She reached fourth place with her Dutch song "Hemel en Aarde" (Heaven and Earth), the highest score for the Netherlands since they won the Eurovision Song Contest for the last time in 1975.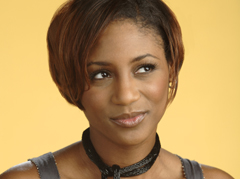 Edsilia's debut album was released during that same year of 1998. The completely English album included many of her own new songs, but also an Oleta Adams cover. A second album followed in 2002, again in English. Songwriter/composer Tjeerd Oosterhuis, alias Tjeerdo, was closely involved with this album. In addition to song writing, Tjeerdo also took responsibility for the production of the CD. In between producing the CD, Edsilia also went on tour both at home and abroad with the international laureate pianist Michiel Borstlap and she also performed at the famous North Sea Jazz Festival. Edsilia and her band also visited numerous Dutch theatres with their own theatre programme, she was Lionel Ritchie's support act during his shows in the Benelux and she shared the stage with the Dutch singer Karin Bloemen.
Edsilia's third album will be released at the start of this year. This will be a completely Dutch album for the very first time. Songwriter/composer Tjeerdo, who is also married to Edsilia, has been closely involved with the realisation of the CD from the very start. He has written most of the music, some of the lyrics and also produced the new album. The "Meer Dan Ooit" (More than Ever) CD has turned out to be a very varied and soulful pop album with beautiful ballads, alternating with great upbeat tempo songs. The soul diva herself also kept her end up with the creation of the CD. She wrote many of the lyrics herself, sometimes together with others, and also had a great deal of involvement from a musical point of view. Her new CD is all about real themes like friendship, love and the wellbeing of others. Themes which are all very close to Edsilia's heart. This means 'Meer Dan Ooit' is a personal statement by a woman who knows what she stands for. "This album shows exactly what my life is all about. I have never been so aware of the things I have experienced, all the things I can still learn," says Edsilia.
As her CD was being released, Edsilia also started a theatre tour of a large number of Dutch theatres at the start of 2007. One of the songs she sings during these shows is called "Nooit meer zonder jou" (Never without you again). This song has been rewritten in English just for the Eurovision Song Contest and entitled "On top of the World". The songwriters are Tjeerdo (also composer), Martin Gijzemijter and Maarten ten Hove. Edsilia will be representing the Netherlands with this song during the forthcoming Eurovision Song Contest in Helsinki. Edsilia feels the lyrics are a very strong element of this song, as they are about the very familiar contrast between wanting to be independent and strong, yet at the same time not wanting to be without your loved one. From a musical point of view, she feels the song excels as a result of the modest verses, a fantastic chorus and mysterious bridges.
Edsilia is very much looking forward to the forthcoming Eurovision Song Contest. "I never used to really watch the Eurovision Song Contest as a child. However, since taking part myself in 1998, I find the contest incredibly exciting to watch. Of course you can't wait to see what the Netherlands comes up with every year and how the international audiences perceive it." Edsilia is not willing to provide us with a real prediction for her own song. "We will have to see how we fare musically. I do hope we manage to get through the semi-final. That is now my first goal. We'll see what happens after that."
Edsilia says the audience in Helsinki will see a very different Edsilia than the one who performed in Birmingham nine years ago. "I was just a girl back in 1998, uninhibited and I hadn't yet seen much of the world. Now I am an adult, happily married, more confident and I have naturally also experienced a great deal more. I feel fantastic and am ready to face all challenges which happen to come my way. Helsinki is one of those challenges and one I am going to give my all."

Tjeerd P. Oosterhuis
Composer/producer Tjeerd Oosterhuis (35), alias Tjeerdo, was born in Amsterdam on 25th December 1971. He has been heavily involved with music and song writing since he was 13 or 14 years old. He combined this with classic piano until he reached the age of 18. He founded the Dutch band 'Total Touch' at the end of the nineteen eighties with his very musical younger sister Trijntje Oosterhuis (34). Their music style was very diverse, with strong soul, R&B, funk, pop and dance influences.
Tjeerdo was the main person behind the scenes. He was the songwriter and producer. He joined the band on stage as a musical director, keyboard player and backing singer. 'Total Touch' enjoyed their big break in 1996 with hits like 'Touch Me There' and 'Somebody Else's Lover'. 'Total Touch' managed to sell almost a million CD's in a relatively short space of time. The years which followed were very successful for 'Total Touch', but after a string of hits and gold and platinum albums, 'Total Touch' decided to call it a day at the end of 2000. Brother and sister Oosterhuis decided to individually continue with their respective musical careers.
This particularly resulted in a great deal of song writing and producing for Tjeerdo. He had already started this process during the 'Total Touch' period. Tjeerdo writes and works for numerous Dutch artists, including Re-play, Trijntje Oosterhuis, Candy Dulfer, Mathilde Santing, Paul de Leeuw, Hennie Vrienten, Di-rect, Petra Berger, Julian Thomas, Romeo, Gordon and Edsilia Rombley. Some of these artists have also enjoyed international breakthroughs. In addition to working for these Dutch artists, Tjeerdo also enjoys collaborations with foreign songwriters and composers.
Tjeerdo became involved with the 'Starmaker' television programme in 2001, which is very popular in the Netherlands. A number of selected musical young people need to form a band in 'Starmaker'. The successful group K-otic was derived from this, which had a successful, albeit short existence. Tjeerdo continues to work with his sister Trijntje Oosterhuis as a songwriter/producer in addition to these activities.
Tjeerdo first worked together with Edsilia Rombley, the Dutch artist for the ESC2007, back in 2000. Tjeerdo was closely involved with writing songs for Edsilia's second CD, who, at that time, had already taken part in one Eurovision Song Contest (1998). This CD entitled 'Face to Face' was released in 2002.
The musical partnership between Edsilia Rombley and Tjeerdo, who have also been married since September 2006, is now repeating itself for her new Dutch CD, which will be released at the start of 2007. Tjeerdo has also (co-) written most of the songs for the CD, which is entitled 'Meer dan Ooit' (More than Ever). He is also responsible for the production of the new album.
One of the songs on the CD is "Nooit meer zonder jou" (Never without you again), which has been rewritten in English for the Eurovision Song Contest and called "On top of the World". Tjeerdo wrote the lyrics together with Martin Gijzemijter and Maarten ten Hove and subsequently composed the music. Tjeerdo is convinced we stand an excellent chance at the Eurovision Song Contest in Helsinki with "On top of the World". "The song exudes energy and has a very catchy melody. The lyrics are universal and the tempo is perfect for a song contest."
Tjeerdo feels "proud" and "honoured" to be hearing 'his' song in Helsinki. "It's just like a young boy's dream. I already loved watching the contest from a very young age. Back then it was all about who won. And who stood out musically. One who always springs to mind is Sandra Kim who won the 1986 Eurovision Song Contest for Belgium with 'J'aime la vie'. A fantastic melody. And a very individual sound. I like that. Nowadays I have more of a professional interest in the contest. It's a shame the live orchestra is a thing of the past. But we will make sure this is more than compensated for with a spectacular performance. Without going over the top. Edsilia's performance is certainly strong enough for that."

Maarten ten Hove
Songwriter/producer/artist Maarten ten Hove (26) was born in Zutphen on 7th July 1980. Maarten became involved with song writing from a very young age. He started recording some of his own songs with a simple cassette recorder and keyboard when he was about 12 years old.
He simply couldn't suppress his passion for music during his time at secondary school. He could often be found in the music room after school, where he would work on and record songs with a class mate, which they would then try out on stage locally.
Maarten decided to completely focus on music from 2000 and released his first official CD in 2002, entitled 'When Time Expires'. This was a solo project for which he wrote all the lyrics and music himself. The 'urban pop' album was released at a modest scale via the independent record label 'Artcon Records', run by the late 'Arthur Conley', an American soul singer, well known for his 'Sweet Soul Music' world hit.
Maarten regularly performed on stage during the years which followed. He also started to get involved with writing songs for other people. He met songwriter/composer Tjeerd Oosterhuis, alias Tjeerdo, in 2004. At that time Tjeerdo was busy setting up his own 'songwriters team', which Maarten ten Hove decided to join. Maarten ten Hove mainly focused on writing songs for various different Dutch artists during the years which followed. He wrote a song for the 2006 National Song Contest, together with the Dutch songwriter Joachim Vermeulen Windsant. Unfortunately the song didn't make it through to the final. Maarten has recently also started performing himself again, in addition to his song writing activities. He recently founded the 'Future Presidents' band, who hope to release their first CD in the summer of 2007.
The year 2007 will also become the year of the Eurovision Song Contest for songwriter Maarten ten Hove. He wrote "On top of the World" together with colleague songwriters Tjeerdo and Martin Gijzemijter, which Edsilia Rombley will be singing as she represents the Netherlands during the forthcoming Eurovision Song Contest in Helsinki. Maarten feels "On top of the World" is "a song which really shows Edsilia's strong personality. This song's theme is the contrast between wanting to be strong and independent, yet missing that special someone who can make you feel complete. I think many people can relate to this. Edsilia's voice gives the song a great deal of warmth and extra power, which really highlights the theme".
Maarten ten Hove is really looking forward to the Eurovision Song Contest in Helsinki. "I think it will be great to witness the complete 'circus' from close by. I used to love watching the Eurovision Song Contest as a little boy, imagining I might be there myself one day. I am therefore very happy to be experiencing the entire spectacle in person."
And finally his favourite from the song contest history? That's a tricky one, but 'Ding a Dong' by the Dutch formation 'Teach In' is the first to spring to mind. Not just because it was the last win (1975) for the Netherlands – up until now – but also because musically it still sounds good and continues to be catchy. Therefore an excellent example of how it should be done."

Martin Gijzemijter
Martin Gijzemijter (27) was born in Amsterdam on 2nd June 1979. He discovered his passion for writing at a very young age, when he wrote his very first poems and stories. When he reached the ripe old age of 12, Martin was certain: he was going to become a writer. During the years which followed Martin devoted a great deal of time to his passion, with growing frustration, as "writing a book takes so long." Plus all this effort didn't automatically result in the top prize: he 'only' managed the reach the runner up spot in a story competition during secondary school.
Martin Gijzemijter decided he preferred to work with shorter texts and he thereby took the first step towards song writing. Years of practicing, writing and trying things out followed. Martin considered going to Journalism School after completing his final secondary school exams, but eventually decided to look for work. After trying out a couple of different things, Martin ended up at the help desk of an internet provider. His favourite activity there was circulating corny stories, which his colleagues felt was a pretty pointless activity. However, when the provider was looking for an editor for its portal, all eyes immediately focused on Martin. An important promotion, as he got the idea of realising an advertising stunt for the provider within this function in 2000, which was a football song. After many emails backwards and forwards, he managed to convince the provider to invest in his first single. The 'Samen voor Orange' (Together for Orange) song was recorded in 2000 at the time of the European Football Championships, with the Dutch singer Hans Versnel and was released by the Sony Music record label.
However, that feeling remained after the European Football Championships were finished. Martin wanted to write more. Things were certainly going his way when he came into contact with songwriter/composer Tjeerd Oosterhuis, alias Tjeerdo, who was looking for someone to build a new website for him. Martin Gijzemijter grabbed this opportunity with both hands and asked Tjeerdo to take a look at some of his lyrics. Tjeerdo's curiosity was aroused and he asked him to take part in a trial project. The result was a second football song 'Hoera We Missen het WK' (Hoorah, We're Missing the World Cup) (Holland was knocked out of the European Football Championships in 2002), sung by the Dutch tropical party band Trafassi. The project was a good reason for Tjeerdo to work with Martin Gijzemijter more often. One example of this is what happened in 2004 when the Dutch team managed to qualify for the European Football Championships. The 'Hoera We Winnen het EK' (Hoorah, We're Going to Win the European Championships) song was the result.
Martin Gijzemijter only wrote one song in 2005, "Eén keer meer dan jij" (Once more than you), as a Valentine's Gift for the love of his life. He asked Tjeerdo to write the music to go with his lyrics. Oosterhuis was so impressed with the song that he asked Martin if the song could be used for the new Dutch album by Edsilia Rombley. He wrote another five songs for Edsilia's album in 2006, closely working together with Tjeerdo and others, including "Nooit meer zonder you" (Never without you again). This song is being rewritten in English for the Eurovision Song Festival with the new title "On top of the World". Martin Gijzemijter, Tjeerdo and Maarten ten Hove are all involved with this English version.
Martin feels "On top of the World" is a song "with content". "The song expresses the contrasting feelings of someone who wants to be strong and independent, yet at the same time cannot be without the one she loves. It is a universal theme which has been put to music beautifully. And the story behind the words certainly doesn't get lost, despite the upbeat tempo."
Martin Gijzemijter is looking forward to the "Eurovision Song Contest stage". "There will be a great variety of different styles of music. From semi-classic to pop and hard rock. I find this very appealing. I literally enjoy everything when it comes to music. And I might even end up with some valuable artist contacts who may be able to make use of my services. That really would be the icing on the cake." And finally, who was his biggest example from Song Contest history? Without a doubt: Johnny Logan. "That man took part as an artist three times, but also as a songwriter. I take my hat off to him."