Participant: Sarbel
Song:Â  Yassou Maria
Writer: Mack
Composer: Marcus ENGLOF & Alex PAPACONSTANTINOU
Video and mp3:
http://www.youtube.com/watch?v=qSlHvfyty_4
Lyrics:
Yassou Maria
First Off She's A Lady
And This Is A Ladies World
Man She Drives Them Crazy
Dancing Like A Chiki Girl
All Eyes – On Maria
No Lie – She's The Bomb
Oh My – They All Wanna See Her,
All Wanna Be The Lucky One
Chorus:
Shake It Up, Shake It Up
There You Go – Oh Ohh
Yassou Maria
Turn Around, Bring It Down
Go Slow – Heads Up
Lord Have Mercy
Shake It Up, Shake It Up
There You Go – Oh Oh
Yassou Maria
Ai, Ai, Ai, There She Goes
Maria!
Yassou Maria
Moves Like Aphrodite
So High Above The Rest
Smooth Like Cleopatra
An Angel In A Devil's Dress
Her Hips – Lust In Motion
Her Lips – Red Like Wine
She Is – The Heart Of Attention, Probably Should Mention
She's Mine…
2 x Chorus
About:
Sarbel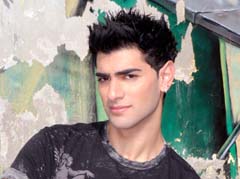 Sarbel was brought into this world by a Cypriot father and a Lebanese mother on May 14th, 1981 in London. There, he grew up and studied music and dance. In springtime of 2005 he released his first album in Greece named "Parakseno Sinesthima" which went on to receive a Golden status (10,000 sold)!! Many successful performances around Greece and all around the world followed, whilst during the summer of 2006 Sarbel released his second album entitled "Sahara", which has already become hugely successful.
Some interesting facts for Sarbel:
РHis full name is Sarbel Micha̩l.
– He was born in London, in May 14th 1981.
– He is a Taurus of 1,93m tall!
– He is the only child of a Lebanese mother and a Cypriot father.
– He works-out regularly, he doesn't drink or smoke.
– He is a stupendous cooker… the Indian, the Lebanese, the Greek and the Cypriot Cuisines are his specialties.
– He lives alone, but he is rarely to be found left without good friends, when at home.
– At the age of 18, he lived in Crete for seven months. He still keeps strong friendly relations with lots of Cretans.
– Recently he recorded a duet with the Swedish pop star Cameron Cartio in Spanish, English and Greek entitled "Mi Chica".

Song writers
Marcus Englöf started playing the guitar at a very young age. He studied music in numerous respectable academies, while at the same time he studied sound engineering and production. He turned down the offer by a big record company to sign a contract for his own solo album, and decided to collaborate with Andreas Carlsson, and produce records by artists such as Bon Jovi and Paul Stanley (Kiss). He later became acquainted with Alex Papaconstantinou, and together they joined forces to write successful hits for both Swedish and Greek artists.
AlexPapaconstantinou was born in Stockholm in 1979. A bouzouki given to him by his father was an initiative for him to start pursuing a career in music. He studied in the finest musical academy in Sweden, and returned to Greece to work in Giorgos Alkaios's ensemble. With the certainty that he should start composing music, Alex went back to Sweden and wrote big hits for famous artists like Helena Paparizou, Cheb Khaled, Anna Vissi, Aurelie Konate, and Cameron Cartio.
The 29 year old Mack lives in Sweden and has already been working for 10 years as a successful composer and as the head of an independent Swedish record company, called TEN. He has written songs for successful artists such as A Teens, Helena Paparizou, Luis Fonsi, and for many of the winners of successful talent shows across Europe.