Google a hotarat ca sa nu mai fie nevoei de a avea un acaunt google pentru a folosi serviciul Google Talk, acum orice poate sa se inregistreze si sa vorbeasca prin intermediul acestui mesenger. Il puteti accesa la adresa
 http://talk.google.com/ Google la inceput a ales sa promoveze Google Talk ca pe extensie a lui Gmail.
Ai cont pe Gmail ai si Google Talk, dar cred ca doreste sa ia o parte importanta din piata impartita in acest moment de AOL/ICQ, Yahoo si MSN lansand acesta posibilitate ca oricine sa poata discuta prin intermediul Google Talk indiferent ai sau nu un acaunt de la Google.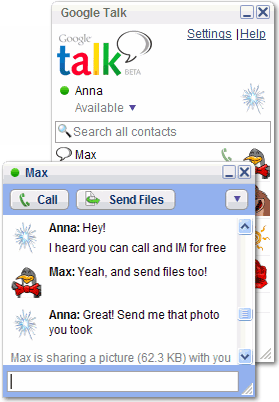 Cred ca e o hotarare desteapta si o sa capete o amploare mai mare acest serviciu de la Google.
1. What does Google Talk do?
Google Talk is a downloadable Windows application that enables users to quickly and easily talk or send instant messages to their friends for free. Calls are made through your computer using the latest voice technology; all you need is an Internet connection, a microphone and a speaker. If you don't have a speaker or built-in microphone, you may want to consider buying a headset, which will also provide the best voice quality when using Google Talk.
When you download and use Google Talk, you're actually connected to the group of users on the Google Talk network. Because Google Talk supports open standards, Google Talk users can also talk with users of other service providers that support open standards. So you can talk with more people, and not just ones who download Google Talk. We're hoping the list of service providers that support open standards will continue to grow, and that more and more users around the world will be able to talk to each other while still getting to use the service of their choice.
2. Who and where can I call? How long can I talk for? Is it really free?
Once your friends download Google Talk, you can talk to them anytime they're online. They can be anywhere in the world, and you can talk for as long as you want. Oh yes, and it's free.
3. Why should I use Google Talk?
If you're signing into Google Talk with a Gmail account, your Gmail contacts are pre-loaded into Google Talk, so you can email, IM or talk to your friends with just a few clicks.
4. How do I talk and IM with my friends using Google Talk?
To talk with your friends for free, both you and your friends must download Google Talk and sign in with either their Gmail or Google Account usernames.
You can send your friends an invitation to download Google Talk by clicking the "Add" button. If your friends don't already have Gmail or a Google Account that is enabled for Google Talk, we'll send them an invitation to sign-up. If you're a Gmail user, your friends will receive a Gmail invitation. If you're a Google Account user, your friends will receive a Google Account invitation.
5. How many people can I invite to Google Talk?
You can invite an unlimited number of Gmail users to download Google Talk and get added to your Friends list. The same goes for inviting people who happen to already be from another service that supports open standards. But if you invite someone who doesn't already have Gmail, a Google Account, or isn't already using an open service, we'll include an invitation to join.
If you're a Gmail user, your friends will receive a Gmail invitation. If you're a Google Account user, your friends will receive a Google Account invitation.
As a Google Account user, the number of users you can invite to create a Google Account to use with Google Talk is not limited.
6. Can I talk with my friends who use other IM services like AOL?
We support open standards, so Google Talk users can also talk with users of other service providers that support open standards.
7. Can I save my Google Talk chat histories?
If you're using Google Talk with a Gmail account, yes, you can save your chat histories to your Gmail account, and access them from the "Chats" label or find them via search. Your saved chats become just like Gmail messages–you can view them, forward them, print them or delete them. Never worry about losing something important from your chats again. Learn more.
If you're not signed in to Google Talk with your Gmail account, the saved chat history feature is not available.
8. How does Google Talk work with Gmail?
To use Google Talk, you can either sign in with your Gmail or Google Account username and password. Want a Gmail account? Get an account using your mobile phone. Want a Google Account? Get an account.
If you're signing into Google Talk with a Gmail account, your Gmail contacts are pre-loaded and the people you communicate with most often will show up in your Google Talk Friends list.
9. What system requirements do I need to use Google Talk?
To use Google Talk, you need Windows 2000, Windows XP (Home & Pro), or Windows Server 2003. You'll also need a minimum 56k dial up connection, but a broadband connection is recommended. To make voice calls, you'll need a microphone and speakers (for optimal voice quality, we recommend using a headset). Google Talk works with any computer speaker and microphone, such as the ones built into many PC laptops today, as well as with wired and wireless headsets and USB phones. We've created a list of recommended accessories for the best Google Talk experience.
The downloadable Google Talk client is not compatible with Macintosh or Linux systems at this time. We look forward to offering support for more operating systems in the future.
Google Talk also supports standards-based communication clients, which means that Gmail users can access the Google Talk service and exchange instant messages using other clients that support the standard XMPP protocol, such as Trillian, GAIM, iChat, Adium, and Psi. This allows users to access the Google Talk service for instant messaging from all major platforms, including OSX, Linux, and Windows.
10. How long does the download take?
The download is only about 1.5MB and will take a few seconds over broadband or about three minutes over a typical modem.
11. Where can I use Google Talk? Does it work at my company?
You can use Google Talk from any computer as long as it meets the system requirements. You should also be able to use Google Talk at your company, since voice calls should work across any firewall or NAT.
12. Is Google Talk available in other languages and countries?
Yes, in addition to US English, Google Talk is also available in these language interfaces: UK English, Dutch, French, German, Italian, Japanese, Korean, Portuguese, Russian, Spanish, Turkish and simplified and traditional Chinese.
13. Do I see ads when I use Google Talk?
We aren't showing any ads on Google Talk. There are no pop-ups or clutter—just a clean and simple interface to make it easy for you to communicate instantly with your friends.
14. Can you tell me more about Google Talk and privacy?
Google respects and protects the privacy of individuals that use our services. Google Talk gives you control over whom you talk with, whom you block, and who can see your online status. Additionally, Google only requires minimal personal information–just your name and Gmail address–for you to use Google Talk.
Google Talk currently does not encrypt chats or calls. But we are working hard to make many improvements to Google Talk while it is in beta, and we plan to fully support encryption of chats and calls before our official release.
When you use Google Talk, you can save your chat histories in your Gmail account for searching and accessing later. This feature is on by default, but can be changed at any time from "Settings" in either Google Talk or Gmail. When you're chatting, you can also go "off the record" if you don't want a particular chat, or chats with a specific person, to be automatically saved in either person's Gmail account. No existing IM client offers this level of user privacy protection (although this feature does not prevent the person you're chatting with from manually saving your chats, such as by cutting and pasting. Also, the feature is available only if both you and the other person are using the Google Talk client, Gmail's chat features, or a third-party client that enables this feature.)
As with all major IM services, Google Talk will collect certain log information created in the course of a conversation. This information is for Google's internal use only, to maintain statistics on usage and to improve our service and the user experience. We do not permanently store any personally-identifying information in the Google Talk logs.
In keeping with our industry-leading Software Principles, you have complete control over the installation and removal of Google Talk. Periodically, Google Talk contacts our servers to see if you're running the most current version of the application. If necessary, we'll automatically provide you with the latest update to Google Talk so you can stay current and secure.
For more details, please review the Google Talk Privacy Policy. If you have thoughts you'd like to share with us on Google Talk and privacy, please let us know.
15. What do I do if I need help with using Google Talk?
For more information or to get help with using Google Talk, please visit our Help Center.
16. How do I uninstall Google Talk?
To uninstall Google Talk:
Click the 'Start' menu, and highlight 'Settings.'
Select 'Control Panel.'
Open 'Add or Remove Programs.'
Highlight 'Google Talk' in the list of programs currently installed on your computer.
Click 'Remove.'
17. What new features are you working on?
We could tell you, but then you'd have to promise to not talk about it… Joking aside, Google Talk is still in beta, and we're working hard to add features and make improvements. We're just not quite ready yet to reveal the other cool things we've got planned.
But we want to keep making Google Talk better and we want your ideas and feedback to help make this happen! Talk to us using the Help link in the Google Talk interface. Let us know what you like, what you don't like, and what you'd really like.
18. Can you tell me more about Google Talk's commitment to open standards and user choice?
We believe that you should have a choice in how you communicate with your friends, that you shouldn't have to use one service because that's where you keep your contacts and other information. We launched free auto-forwarding and POP access for Gmail so our users could take their messages with them and use any service they want, and we're committed to upholding this idea of user choice for Google Talk as well. Today, with instant communications, you can't talk to your contacts or buddies in one service while using another service. We hope to change that.
Google Talk supports open standards and is fully interoperable with other communications services that support the open server-to-server XMPP protocol. This means that users of any of these services can communicate directly with Google Talk users, and vice versa. Here is a list of just some of the service providers that already support this open industry standard.
While we hope many people will use and like the Google Talk client, we're also committed to making it as easy as possible for you to communicate with your friends using the client that you want–even if it doesn't happen to be ours. That's why we're also supporting open standards and the same protocol that clients such as Trillian, GAIM and iChat do. For more details, please visit our FAQ for developers.