Participant: Scooch
Song: Flying The Flag (For You)
Writer: Russ SPENCER, Morten SCHJOLIN, Andrew HILL & Paul TARRY
Composer: Russ SPENCER, Morten SCHJOLIN, Andrew HILL & Paul TARRY
Video and mp3:

Lyrics:
Flying The Flag (For You)
This is your captain speaking
I'd like to welcome you aboard this Eurovision flight
The duration will be three minutes exactly
Now sit back, relax and enjoy the flight
Babada babada… badada babada…
Babada babada… (Duty free, madam?)
Yeah yeah yeah yeah…
Babada babada… badada babada…
Babada babada…
We're flying the flag all over the world
Flying the flag for you
London to Berlin
All the way from Paris to Tallinn
Helsinki on to Prague
Don't matter where we are
Yeah yeah yeah…
Flying high in Amsterdam
Why don't you catch us if you can?
Now we're cruising in the sky
And we're singing it for you
Babada babada… badada babada…
Babada babada… (Some salted nuts, sir?)
Yeah yeah yeah yeah…
Babada babada… badada babada…
Babada babada…
We're flying the flag all over the world
Flying the flag for you
(Would you like a complimentary drink with your meal, sir?)
We're flying the flag all over the world
Flying the flag for you
Ladies and gentlemen, your exits are here, here and here
To fasten your seatbelt insert the fitting
To use the life vest, slip it over your head
Pull firmly on the red cord and blow into the mouthpiece
Babada babada… badada babada…
Babada babada… (We wish you a very pleasurable journey)
Yeah yeah yeah yeah…
Babada babada… badada babada…
Babada babada…
We're flying the flag all over the world
Flying the flag for you
We're flying the flag (Yes, we're flying)
All over the world (Take you all around the world)
Flying the flag for you
(Would you like something to suck on for landing, sir?)
We're flying the flag (Yes, we're flying)
All over the world (Take you all around the world)
Flying the flag for you
We'd like to thank you for flying with us today
About: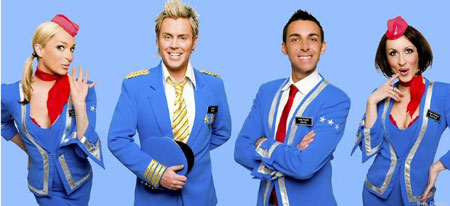 On March 17th, in the last National Final to be announced, Scooch defied the odds and roared to victory on BBC ONE's "Eurovision : Making Your Mind Up".
In a thrilling finale (with one slight mishap at the end !) record numbers watched and phoned in to crown Scooch as victors over plucky French songstress Cyndi.
Scooch were formed in 1998 and signed to EMI Records. They hooked up with Mike Stock and Matt Aiken, two thirds of the "Hit Factory" (along with Pete Waterman) the producers who launched the musical careers of Kylie Minogue and many others.
Russ, Natalie, Caroline and David soon became one of the most popular teen pop acts of the late Nineties and early Naughties in the UK, performing on countless arena tours and UK television shows.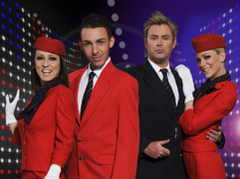 Scooch scored 4 Top 20 hits including the Top 5 single "More Than I Needed To Know", culminating in their album "Four Sure". In their time together they performed alongside Christina Aguilera, Kylie, Westlife and Ronan Keating and their success wasn't just limited to the UK either, with #1s in various countries worldwide.
Schooch split 6 years ago…so what have they been up to?
Russ – has been TV presenting, currently working on "The Great Big British Quiz" on Five, he has also appeared in the last series of Footballer's Wives and was a guest on the last series of Never Mind the Buzzcocks. You may have also caught him in the hit Channel 4 and E4 show "Boys Will Be Girls"…trying to pass himself off as a woman !
Natalie – now a full time mum to her 6 year old son Michael, has been working on her own solo projects. She has scored 2 dance hits with "Unchained Melody" and "Music to My Heart", toured extensively as a solo artist, as well as working as a session singer and singing teacher.
David – went back into education gaining an HND in Musical Theatre and is currently completing his degree in Performance. David has also set up his own very successful stage school "Performers" which has been running for 6 years now.
Caroline – moved from pop music to musical theatre. Having joined the cast of Grease in the West End, she then moved on to The Producers as part of the original cast alongside Lee Evans and Nathan Lane and currently stars alongside Peter Kay.
"We want to bring Eurovision back to the way it should be. Over the last few years, artists have been either performing rap, taking themselves too seriously or simply just not been "Eurovision". Last year's winner were a heavy rock band, we want to bring it back to Euro pop where it belongs".