Participant: Olivia LEWIS
Song: Vertigo
Writer: Gerard James BORG
Composer: Philip VELLA
Video and mp3:
http://www.youtube.com/watch?v=qwdwIZRf_nI
Lyrics:
Vertigo
You're spinning me round
And you're holding me down
Loving you gives me vertigo
I'm losing my ground
Giving in to your heart
Kissing you gives me vertigo
And I'm lost, then I'm found
And I run, then I hide
And I turn, you're not there
I say yes, you say no
Loving you gives me vertigo
And I give, but you take (And I'm lost, then I'm found)
I made one big mistake (And I run, then I hide)
Gave you all, A to Z (And I turn, you're not there)
Then you came, now you go
Loving you gives me vertigo
You're lifting me high
Then you're taking me low
It's feeling like I'm getting vertigo
You colour me blue
Turn my passion to red
It's feeling like I've become indigo
Chorus
Am I crazy? Could it be maybe
Solo is the way to go?
And I'm lost, then I'm found
And I run, then I hide
And I turn, you're not there
I say yes, you say no
Loving you gives me vertigo
Chorus
About:
Olivia Lewis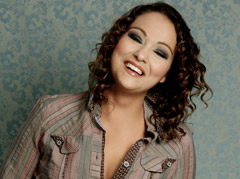 Olivia Lewis was born on the 18th October, 1978. At an early age, she started showing interest towards singing and performing and eventually started attending singing lessons. This was followed by a string of successful participations in local song festivals. Her winning streak was formidable and her huge collection of trophies is full of memories from these past festivals when she was so young.
Her first participation in the Song for Europe Festival was actually at age 14 as backing vocalist. A year later she was also backing vocalist for William Mangion's winning 'This time'. She just missed participating in the Eurovision Song Contest of that year because of her young age.
In the mean time Olivia started focusing on various musical styles. Her preferred styles are R&B and soul. She likes listening to singers such as Stevie Wonder, Aretha Franklin, Mariah Carey and a host of other performers who have made their name in the black music scene.
After a few years Olivia was encouraged to start training for jazz singing. This took most of her time, but results were soon to be forthcoming. In fact Olivia was the first Maltese singer to perform in the renowned Malta Jazz Festival together with the Paul Giordmaina Jazz Quarter. Her performance was memorable.
Olivia has participated as lead singer in the Song for Europe Festival since she was 16 years old. In the process she has collaborated with the best composers on the island such as Paul Abela, Dominic Galea, Paul Giordmaina, Philip Vella and Ray Agius amongst a host of others.
Her most memorable performances came in these last two participations. During last year's festival she performed 'Take a look' which was written by Paul Giordmaina and Fleur Balzan. During this festival she was classified first by the jury and second in the televoting, just missing the top spot by a few points. 'Déjà vu', written by the winning duo Philip Vella and Gerard James Borg got 11,369 votes, coming second and missing the top spot by 500 votes.
Olivia has also participated successfully in a host of foreign festivals. She has sung in the UK, Italy, Romania, Bulgaria, Lithuania, Serbia and Montenegro, Kazakstan and a host of others. She placed first in the Lithuanian and Bulgarian festivals and second in the Kazakstan festival.
2005 marked the release of Olivia's first cd-single which contains Déjà  vu and also a remix of this song made by DJ Armani. 2007 has already been a big year for Olivia. She has just recently won the Malta Song for Euroope with her song "Vertigo". It was a landslide victory for Olivia, her performance getting almost 31,000 votes. As a result she will be representing Malta in the Eurovision Song Contest semi-final on the 10th May, 2007 in Helsinki.
Olivia is also a leading singer in the entertainment industry and her schedule is often packed with singing at events, hotels, concerts and other activities. She also participates in a daily television show called 'Kalamita' which attracts the highest viewership in the afternoon broadcasts on the island.

Philip Vella
Philip Vella is one of the most successful composers in Malta, and winner of several music awards such as Best composer (Malta Music Awards), Best sound engineer, and Best original score (Malta TV awards). He has been involved in many major projects such as the original EU song to mark Malta's entry in the European Union, the Small Nations Games official song, and composed the original score for the Commonwealth Heads of Government meeting held in Malta.
His Eurovision credits range from being consultant to the 2003 Ukranian delegation, to composing his own entries. He has written the winning song for Malta 4 times, "Desire" (2000), "7th Wonder" (2002) and "On again… off again" (2004), "Vertigo" (2007). He has always had a top 10 finish, and came close to winning the Eurovision song contest in 2002, when "7th wonder" placed 2nd in Tallinn, Estonia.
He has written for many Eurovision national selections which include Belgium, The Netherlands, and Bulgaria, apart from Malta, where his entries were 2nd in 2001, and 2005 in the local selections. He has seen several of his compositions make it to the local charts, and has also worked with artists from Holland, Belgium, UK, Sweden, and Ukraine. One of his songs also participated in the Golden Stag festival in Romania, and won 3rd prize, and another 2nd prize in the international Mega Hit festival in Turkey.
Besides, he is also responsible for the soundtrack of many popular tv shows and soap operas and is the current composer of computer game company Black Pencil in Germany who are the makers of Harry Buster and Smoke Attack 2. He is currently involved in producing for new and established artists.

Gerard James Borg
Gerard James Borg is a highly creative concept creator and lyric writer who amongst other projects, has written for the Eurovision song contest 4 times in 6 years; "Desire" (2000), "7th Wonder" (2002), and "On Again…Off Again" (2004). All of his entries have reached a top 10 position, and he came very close to winning the Eurovision song contest in 2002 when his song – "7th Wonder" – placed 2nd. He is back in the race with the 2007 Maltese entry "Vertigo"! He has also been awarded the Press Award for this song.
In 2001, and 2005, he was close again to victory with two songs "Spellbound" and "Déjà vu", which placed 2nd in the national contest. "Spellbound" went on to be voted Song Of The Decade, and "Déjà vu" shot to number #1 in the local charts.
Gerard has written for several local and international artists. In 2003 he penned the song "Heatwave" which placed 4th in the 2003 Dutch festival for Eurovision at the Ahoy in Rotterdam. He was also invited by Norwegian broadcaster NRK in 2005 to write for the Melodi Grand Prix – and together with Arve Furset (Norway 2003 entry) he wrote "Velvet Blue" for Norwegian artist Katrina Strugstad. In 2006 he co-wrote "Absolutely Fabulous" for Queentastic, with Thomas G:son and Andreas Rickstrand, which won the bronze medal in the Norwegian Melodi Grand Prix. That same year, he had 3 other songs in different national finals across Europe, including "Beyond You" for Belgian Vanessa Chinitor. This made Gerard the first lyricist to have four songs in four different national finals in the same year!
Other projects he has worked on, outside the Eurovision sphere, include creating concepts and lyrics for various singles and albums, and a solid collaboration with some of Europe's top composers. His works – which range from pop to soul, to ballads, and rock – have been appreciated outside the Maltese shores, including the United States were Gerard has given an interview to Billboard magazine journalist Fred Bronson. Other interviews include many leading websites, journals, television and radio.