Participant: Evridiki
Song: Comme Ci, Comme Ça
Writer: Posidona YIANNOPOULOS
Composer: Dimitris KORGIALAS
Video and mp3:
http://www.youtube.com/watch?v=IQ_J26guWjU
Lyrics:
Comme Ci, Comme Ça
Tous les lundis,
tu finis
le travail trop tard, Et puis
la télé
est sonnée
quand mon coeur se reveille,
Et tous
les mardis,
tu me dis
le matin – et tu l'oublies
'On ira au ciné',
mais le soir – 'désolé'
Comme ci comme ça,
La vie passe
Et les bons moments nous depassent
Comme ci comme ça,
L'amour casse
routine et paresse nous menacent
Comme ci comme ça,
je n'en peux plus
Je suis déçue, tu m'as perdue
Je reste pas là ,
comme ci comme ça
La fin voilà ,
comme ci comme ça
Meme les samedi
A minuit
Tu me dis deja bonne nuit
Tu t'endors quand je sors
En te chantant tres fort
Comme ci comme ça,
La vie passe
Et les bons moments nous depassent
Comme ci comme ça,
L'amour casse
routine et paresse nous menacent
Comme ci comme ça,
Je n'en peux plus
Je suis decue, tu m'as perdu
Je reste par la
Comme ci comme ça,
La fin voila
Comme ci comme ça,
About:
Evridiki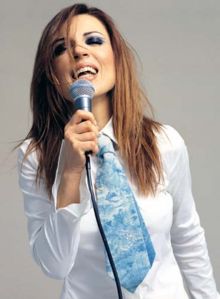 Evridiki was born on the 25th of February in Lemesos, Cyprus and grew up in the capital, Lefkosia. She was the first foreign student to study at the Studio des Varietes in Paris where her subjects were phonetics, guitar, theory, harmony, together with dance, body, facial expression and performance.
Later she enrolled at the Berklee College of Music in Boston, USA where she completed her music studies in phonetics, basic keyboard, ear training, history of music, history of jazz, jazz harmony, and instrumentation.
In 1991 she released "Gia proti fora" which included songs by Alexis Papadimitriou, George Theophanous and Leonidas Malenis.
In 1992 she represented Cyprus in the Eurovision Song Contest with George Theophanous's composition "Teriazoume". In 1994 Evridiki represented Cyprus for a second time with the entry "Eimai anthropos ki ego" composed by George Theophanous. Since 1991 Evridiki has released 12 solo albums in both Greece and Cyprus.
Major achievements in Evridiki's career:
– 1992 awarded Best Female Newcomer in the Popcorn Music Awards.
– 1993 won Best Performance for the song "Poso ligo me ksereis".
– Evridiki's video clip of "Afto to fili" shown by MTV.
– 2001 Evridiki performed in the role of Taptim in the Greek version of the musical "The King & I".
On the 10th of May 2007, Evridiki will represent Cyprus for the third time in the Eurovision Song Contest in Helsinki, Finland.
Dimitris Korgialas
Dimitris Korgialas was born on the 3rd of August 1971 in Navpakto, Greece. He grew up in Athens and at the age of 15 he became involved with music and formed his first new wave group Media Vox.
In 1998 he had his first release entitled «Προς τα έξω». Dimitris wrote nine of the songs himself and the track «Mην υποκρίνεσαι» was re-arranged by Nikos Ziogalas. Afterwards Dimitris went on to perform with Kostas Livadas and Puzzle.
He then released «Μιαφορά» together with an English-French version entitled "Juste une fois". «Μιαφορά» became a big hit and went on to win two awards (Best Rock Song and Best Duet of the Year) at the first Video Music Awards, organised by MAD TV.
In 2005, for the very first time, Dimitris wrote the entire music for Evridiki's new CD «Στοίδιοβαγόνι». While preparing his own release «Η μέραφεύγει», he also wrote a song for Sakis Rouvas' album «Σ'έχωερωτευθεί».
In December 2005 he began to perform with Anna Vissi, and the following year his greatest hits were released on his «Best of» CD.
Poseidonas Yannopoulos
Born and raised in Brussels, Poseidonas Giannopoulos was the typical child of Greek immigrants. He was taught to love and respect everything relating to Greece, namely the Greek language and history, the Greek cinema and the Greek music above all.
Living in Greece since he was 15, he graduated from the French Academy. Since 1987 he has been working as a radio producer.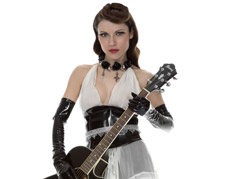 His passion for the Greek music pushed him to a more active involvement in the process of song-making. His lyrics have become major hits performed by established Greek singers, including Giannis Ploutarhos, Natassa Theodoridou, Pegy Zina, Christos Dantis, Stelios Rokkos and Tamta.
In 2000 he started experimenting with album productions, editing the production of albums of several artists, with Stelios Rokkos and Pegy Zina listed among them.
Since 2002 he has been giving vent to his musical interests in creating music shows. Among his most well-known collaborations are those with Natassa Theodoridou at clubs Fos, Iera Odos, Votanikos, and with Giannis Kotsiras at club Keramikos.
The Eurovision Song Contest is another passion of his, a passion that made him take the plunge and participate in it as a lyric writer.
Music career
Born in Limassol, Cyprus, Evridiki Theokleous was raised in the island's capital, Nicosia. While still at school, she studied music at the National Conservatory of Cyprus. When she finished school, she went to Le Studio des Variétés in Paris, France where she studied music, theatre, and dancing. Afterwards she went to the Berklee College of Music in Boston, USA where she supplemented her musical studies with courses of harmony and instrumentation.
In 1989, she moved to Athens, Greece, to work with several artists, sing in compilations, and in 1991, release her first personal album Gia Proti Fora.
In 1994, she married Giorgos Theofanous. Together, they had a son, Angelos, in November 1996. Theofanous was the main composer and producer of her first nine albums. He called Evridiki his muse always and even after they got divorced in 2000. She is currently engaged to musician Dimitris Korgialas, composer of Comme Ci Comme Ça (Cyprus' entry at the Eurovision Song Contest 2007).
Overall, Evridiki is one of the most popular successful and best selling singers in Greece and Cyprus. She has worked with the most important personalities of the Greek music industry. Besides George Theophanous also with people like Vasilis Papakonstantinou, Giorgos Hatzinasios, Yannis Spanos, Marios Tokas, Dimitris Korgialas, Vangelis Dimitriadis, Christos Dantis, Natalia Germanou, Eleni Peta, Giorgos and Yannis Vardis, Stelios Rokkos, and Sakis Rouvas.
In 2002, she performed Taptim in the musical The King and I, produced by Mimi Denisi with very positive acceptance by public and critics.
After her divorce and having a music break for almost three years, Evridiki released the album Oso Fevgo Gyrizo in which she wrote two songs. This record would be a turning point in Evridiki's career by characterizing a new era for her. Since then she has been recognized as the most successful Greek rock singer[citation needed] and has released another critically-acclaimed record Sto Idio Vagoni.
Her new album "13" which is her thirteen personal album was released on 26 of March 2007.
Participation in Eurovision Song Contest
She represented Cyprus in the Eurovision Song Contest in 1992 (Malmö, Sweden) with the song Teriazoume (finishing in eleventh place), and then in 1994 (Dublin, Ireland) with Ime Anthropos Ki Ego. The latter caused controversial reactions from critics and the audience due to the song's political allusion to The Cyprus Problem. On the other hand, it became a hot favorite to win because of its ethnic sound and her very sentimental performance. As with her first entry in the contest two years previously, Evridiki took eleventh place. Evridiki also appeared as a backing vocalist in Eurovision on three separate occasions, in 1983, 1986, and 1987.
In 2007, she was selected to represent Cyprus for a third time, in that year's contest, with the song Comme Ci, Comme Ça whose lyrics were written by Posidonas Giannopoulos and its music composed by Dimitris Korgialas. The song has French (original), Greek, and English versions.